Daily Coastal Breakfast Club
Our daily Breakfast Club runs from 7.30am, every day on weekdays, term time only, for Nursery to Year 6. Please see below for forms, policies and further information on how to book.
We have many activities on offer and activities are child-led, which means that children are encouraged to choose what they would like to do. We like to start the morning with music and a boogie to get everyone in the mood to start the day with a positivity!
There are also beanbags, blankets and cushions provided for relaxing and lots of teddies to snuggle up with should some children sometimes need a calm start to the day.
Children from Nursery to Year 6 attend the club and activities are age appropriate for the range of ages. The older pupils love to support the young children in Nursery and Reception in activities and play!
We also have Active Mondays every week - see below for more information!
Breakfast and snacks are provided. Costs are as follows:
£4.00 per session
Clubs email contact: afterschoolclub@stpeters.brighton-hove.sch.uk
Club phone number: 07395 156638
Please see our After School Club page for details of our after school provision.
Activities at Breakfast Club:
Arts and crafts (such as bead making, drawing self-portraits, pipe cleaner modelling, loom bands)
Lego and puzzles
Giant Jenga/Dominoes
Dolls
Fancy dress
Outdoor and indoor exercises and games led by an adult. Hula hooping, dance mats, space hoppers, playground games and the trampoline are very popular choices!
And Mondays are our Active Mondays, with circuit training designed by the children and PE equipment fun and energy to music!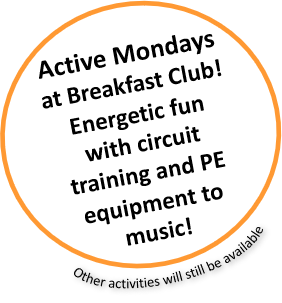 Breakfast Club FAQs
What time does the club run?
7.30am until school start time every weekday term time.
What time can I drop off my child(ren) and where?
7.30am – 8.15am at the Brambledean Road entrance. Please use the doorbell if the gates are closed.
How much does it cost?
£4.00 per session
Who can attend?
All year groups (Nursery to Year 6)
How do I book?
It is a drop in service so no need to book. You will need to complete a registration form (available on our website) or can collect from the club and complete on the day.
Can Year 6 children attend by walking to the club?
Yes, but we ask you to book in advance to ensure your child's safety so we know to expect them.
Where do I drop off?
Brambledean Road entrance. There is a doorbell should the gates not be open.
Breakfast options:
Cereals
Toast, with a variety of toppings
Yoghurt
Cereal bars
Malt loaf (Soreen)
Pancakes
Fruit salad
Crumpets
And more!