Our Nursery
Our Nursery provision is available from 7.30am - 6.00pm every week day in term term.
Our Nursery team consists of highly experienced and friendly, caring staff.
The Nursery Teachers have both spent many years working in Early Years education and are supported by a skilled Nursery Practitioner and Teaching Assistants, as well as a Midday Supervisor to support lunchtimes.
Every day in Nursery is different! Our children follow the Nursery curriculum and work on termly topics, in line with the rest of the school. Children experience a range of learning opportunities with enjoyment and challenge in a safe, inclusive environment.
See our "Coastal Clubs" webpage for more information about the before and after school wrap-around provision at St Peter's!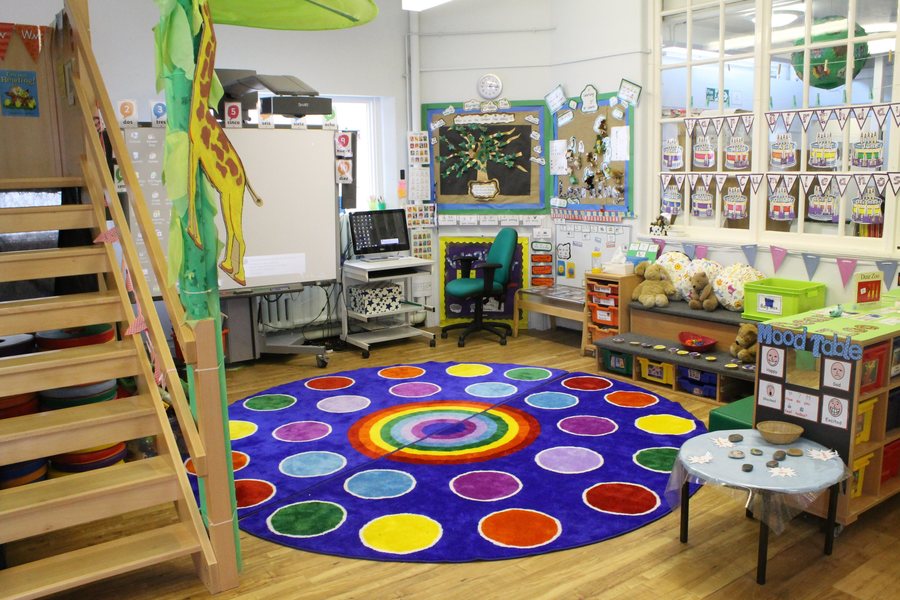 Nursery Admissions
Admission to our Nursery is free and children can start our nursery the term after they turn three years old. We offer 15 or 30 hours of free childcare a week, as well as ad-hoc bookings for extra half days or full days at a low fee.
You are welcome to put your child's name down for the Nursery at any time. However, this does not guarantee that your child will have a place as spaces are allocated in accordance with our Nursery Admissions Policy approximately one year in advance.
If you would like to visit our Nursery, please contact the school to make an appointment.
You may join our Nursery independently from the school. Please note that a place in our Nursery does not guarantee a place in the school.
We currently offer:
15 hours first half of week:
Monday and Tuesday all day, Wednesday half day
15 hours second half of week:
Wednesday half day, all day Thursday and Friday
30 hours: Monday to Friday, all day*
*Full day times are usually 8.55am - 3.00pm
We also offer access to our Breakfast and After School Clubs for Nursery children so there is availability for childcare from 7.30am - 6.00pm every week day in term time.

Nursery Admissions Form

30 hours entitlement
3 and 4 year olds in England are currently entitled to 15 hours of free childcare a week during term time. Some 3 and 4 year olds are also able to access 30 hours of free childcare if their parents are working and living in England.
Parents need to register to find out if they are eligible for the 30 hours free childcare. If so, they receive a 30 hours eligibility code, which is a unique 11-digit reference number. Parents then need to email us the following:
Your eligibility code
Your National Insurance number
Your date of birth (parent)
Your child's date of birth
This information is required to carry out the checks. Confirmation will then be given from our nursery to secure the place.
To find out eligibility and register for 30 hours:
https://childcare-support.tax.service.gov.uk/par/app/applynow
This link has more detailed information about the scheme:
https://childcare-support.tax.service.gov.uk/moreinfopar/2/?returnURL=%2Fpar%2Fapp%2Fapplynow
Every three months, parents are required to reconfirm that they remain eligible for 30 hours and Tax-Free Childcare. If a parent's details have not changed, they only need to tick a box in their childcare service account to confirm their details remain the same.
Please note: this information has been taken from the DfE guidance and Brighton and Hove – April & September 2017.
Nursery extra sessions
Parents are able to book their children into the Nursery for extra days/half days on an ad-hoc basis. outside of the 15 hours of entitlement for a low fee.
How to Book
Booking must be made via the Booking Form:

Nursery Extra Sessions Booking Form and Terms and Conditions

Hard copies of this can be picked up from the Nursery and completed at Nursery drop-off/pick up.
Payment of fees
Fees for extra places are charged at a rate of £5 per hour.
Half day extra session: £15.00 (Morning: 9.05am – 12.00pm / Afternoon: 12.05pm – 3.10pm)
Full day extra session: £30.00 (9.05am – 3.10pm)