Sports Premium
Sports Premium report 2017/2018
Sports Premium report 2016/2017
Sports Premium Report 2015/2016
Sports Premium Report 2013/2014 & 2014/2015
The PE and Sport Premium is designed to help primary schools improve the quality of their PE and sport activities they offer their pupils. The Sports Premium funding has doubled, which has given us the opportunity to participate in more competitions, to access CPD and to offer some free sports club by external providers.
At St. Peter's, Physical Education is a key feature in our curriculum in our drive to promote a healthy lifestyle. As part of our expansion to a Primary School, we now have a large school hall with a sports floor, climbing and rope frames, some challenging new large gymnastics equipment and lots of new general PE equipment. The children have access to the latter at playtimes as well as during lessons. We make good use of our local amenities, such as Vale Park for games and sporting events, and from Key Stage one onwards, the children attend swimming lessons with a professional coach at the King Alfred centre. We also have very good links with local schools such as St Mary's RC School just up the road from us and PACA, where we hold our annual Sports Day. All children participate in PE from Nursery up to Year 6. Throughout the year, the children engage in gymnastics, dance, outdoor games and multiskills. We take a cross-curricular approach to physical activities and ensure enjoyment by using games or apparatus during other lessons, such as Maths. Please see below and our photo gallery for photos of our recent sporting activities!
We regularly monitor how we are using our Sports Premium throughout the year to continue to improve the quality and breadth of PE and Sport provision, including further increasing participation in PE and Sport so that all pupils develop healthy lifestyles and reach the performance levels they are capable of.
Measuring the impact of the activities provided with Sports Premium funding can be achieved in several ways. We look at progress in PE, as well as other areas of development such as self-esteem, confidence and the numbers of pupils involved in sporting activities in and out of school. We also evaluate the impact of professional development opportunities in improving teaching and learning in PE.
As a school, we promote the importance of being healthy, being safe and looking after ourselves, in all areas, to ensure that children have an understanding of an active, healthy lifestyle and how to live one.
2017/2018 Sports Premium update (1st September 2017 - 31st August 2018)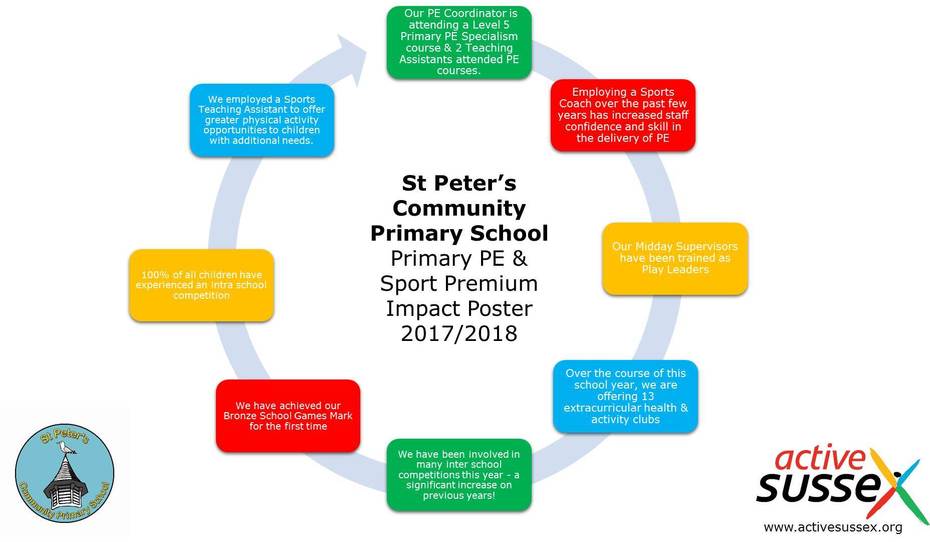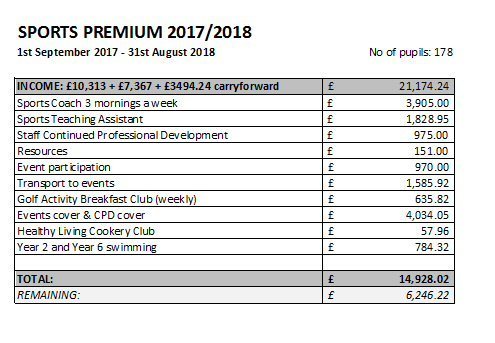 Our full 2017/2018 report on this academic year's expenditure is available to download at the top of this page.
Upcoming fixtures at St Peter's 2018/2019:
ESFA football tournament Year 5 & 6 boys Friday 28th September 00-5.45pm @ Brighton College Jubilee Sports Ground BN2 5UA
Tag rugby festival Years 5 & 6 mixed Wednesday 3rd October30-4.00pm @ Waterhall
Albion cup under 11's (Years 5 & 6) girl's football Tuesday 6th November30-2.00pm @ Waterhall
Albion cup under 11's (Years 5 & 6)mixed football Friday 9h November30-2.00pm @ Waterhall
Cross country competition Year 5 & 6 mixed Wednesday 21st November30-3.00pm @ Waterhall
Indoor athletics Year 5 & 6 mixed Wednesday (date TBC) January00-4.45pm @ BACA
Hove Park cross country Years 5 & 6 mixed Wednesday 27th March00-3.00pm @ Hove Park
Netball tournament Years 5 & 6 girls Wednesday 3rd April15-4.00pm @ Hangleton
Albion cup under 9's (Years 3 & 4) girl's football Wednesday 3rd April30-2.00pm @ Waterhall
Albion cup under 9's (Years 3 & 4)mixed Thursday 4th April30-2.00pm @ Waterhall
Tri golf 3 & 4 mixed Thursday 9th May30-4.30pm @ Blatchington Mill
Racquet festival Years 3 & 4 mixed June (date TBC)45-3.15pm @ Withdean
Withdean Athletics Years 4, 5 & 6 mixed Wednesday 19th June 30-12.45 @ Withdean Stadium
Swimming Years 4, 5 & 6 mixed Wednesday 3rd July (time TBC) @ Prince Regent