Sports Premium
The PE and Sport Premium is designed to help primary schools improve the quality of their PE and sport activities they offer their pupils. The Sports Premium funding has doubled, which has given us the opportunity to participate in more competitions, to access CPD and to offer some free sports club by external providers.
At St. Peter's, Physical Education is a key feature in our curriculum in our drive to promote a healthy lifestyle. As part of our expansion to a Primary School, we now have a large school hall with a sports floor, climbing and rope frames, some challenging new large gymnastics equipment and lots of new general PE equipment. The children have access to the latter at playtimes as well as during lessons. We make good use of our local amenities, such as Vale Park for games and sporting events, and from Key Stage one onwards, the children attend swimming lessons with a professional coach at the King Alfred centre. We also have very good links with local schools such as St Mary's RC School just up the road from us and PACA, where we hold our annual Sports Day. All children participate in PE from Nursery up to Year 6. Throughout the year, the children engage in gymnastics, dance, outdoor games and multiskills. We take a cross-curricular approach to physical activities and ensure enjoyment by using games or apparatus during other lessons, such as Maths. Please see below and our photo gallery for photos of our recent sporting activities!
We regularly monitor how we are using our Sports Premium throughout the year to continue to improve the quality and breadth of PE and Sport provision, including further increasing participation in PE and Sport so that all pupils develop healthy lifestyles and reach the performance levels they are capable of.
Measuring the impact of the activities provided with Sports Premium funding can be achieved in several ways. We look at progress in PE, as well as other areas of development such as self-esteem, confidence and the numbers of pupils involved in sporting activities in and out of school. We also evaluate the impact of professional development opportunities in improving teaching and learning in PE.
As a school, we promote the importance of being healthy, being safe and looking after ourselves, in all areas, to ensure that children have an understanding of an active, healthy lifestyle and how to live one.
2017/2018 Sports Premium update (23rd March 2018)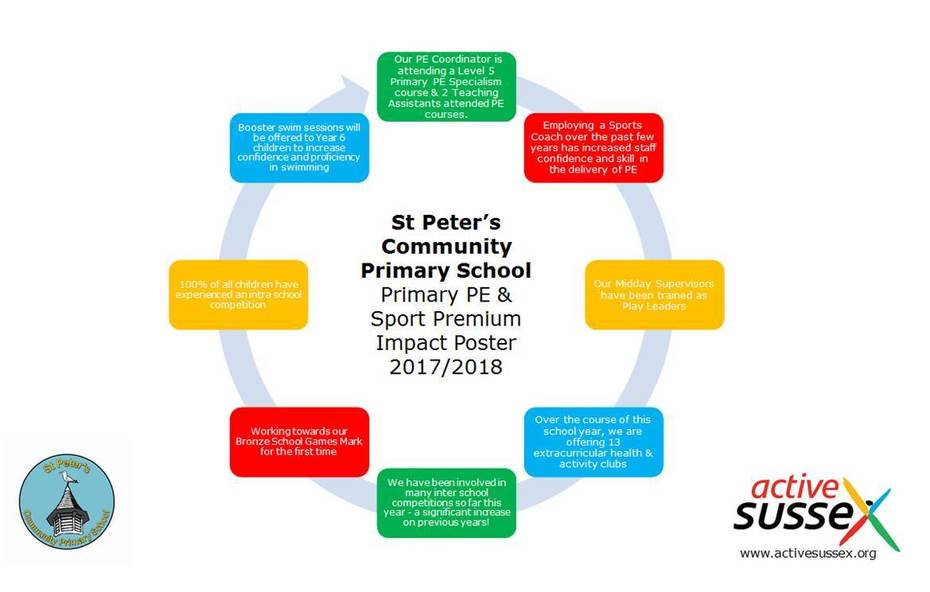 For 2017/2018, our Sports priorities are to build on the progress made by pupils and teachers in the development of their skills and to ensure sustainability through evaluating the impact of Sports Funding as part of our normal self-evaluation and provision mapping arrangements.
Our 2017/2018 priorities are:
To offer a free activity breakfast club to our Key Stage 2 children here at St Peter's.

To continue and increase our provision of after school activity clubs.

Track children's uptake in clubs.

Continued Sports Coach support from Mr Hance.

Entry and exit conversations with children, detailing their involvement in clubs and their sports' skill development.

Annual questionnaires to staff about the impact the sports coach is having on their own and the children's skills' development.

Change for Life Club to run again in the spring term.

To take part in more sporting competitions.

Introduce 10 minutes of daily exercise for all year groups.
We are already implementing many of these priorities this year, such as the provision of 11 extracurricular health and activity clubs, partaking in more sport competitions and the daily 10 minutes of exercise, which we already see is having a positive impact on learning behaviours in the classroom.
We have participated in these events so far this year (March 2018):
Brighton and Hove Albion Cup Football Tournament - mixed
Brighton and Hove Albion Cup Football Tournament - girls only
Boys and Girls Football Tournament at Brighton College
The Geerts Shield tournament
The Russell Martin girls football tournament
Brighton and Hove tag rugby festival
Hove and Portslade Schools' Netball League
Hove and Portslade Schools' Football League
Stearman Cup tournament
Upcoming fixtures in the summer term at St Peter's:
Netball tournament Wednesday 28th March 1.15-4.30pm @ Hangleton (Y5&6 girls)
Hove and Portslade Schools cross country Wednesday 18th April PM @ Hove Park (Y5 & 6 mixed)
Girls' 7 a side football tournament Wednesday 25th April 2-5pm @ Blatchington Mill (Y 5 & 6)
Girls' Cricket Tournament Friday 27th April 10am – 2pm @ PACA, 6 a side (2 teams)
Albion under 9 girls football Wednesday 9th May 9.15-1.30pm @ Waterhall
Tri golf 1 team Y3/4 mixed Thursday 17th May 2.30-4.30pm @ Blatchington Mill
Albion under 9 mixed Wednesday 13th June @ Waterhall
Withdean Athletics Y4/5/6 mixed Wednesday 20th June 9.30-12.45 @ Withdean Stadium
Change4life festival Y3/4 mixed Tuesday 26th June @ Blatchington Mill
Swimming Y4/5/6 mixed Wednesday 4th July @ Prince Regent
We availed of the opportunity to put forward two of our Year 6 boys to participate in higher level coaching with Chelsea Football Club Foundation. The boys are still attending these sessions and are thoroughly enjoying them and progressing.
Our dedicated staff run many sporting and healthy activity after school clubs:
Dance - our children from Years 2 - 6 participated in our annual spring club which culminates in a performance on stage at Brighton Dome. The club is over-subscribed and is always a highlight for children and this year was no exception! Our school opened the show with a dynamic, high energy performance and many children that had been hesitant about performing prior to the club really enjoyed and made the best of the experience.
Cookery - children from years 1 -6 took part in our Healthy Living Cookery Club. This club is also oversubscribed and the children were really proud to show off their cooking skills to parents and staff! They often made 2 meals/food options each session and even talked about setting up their own cookery club at home!
Sporting Clubs - As always, our football and netball clubs are thriving and popular. We opened netball club to boys and in the spring term, we opened up football to year 4 as well as years 5 & 6, as well as offering it to both boys and girls.
Karate - this is an external club with a drop in policy and is always busy and well attended. Children regularly comment on the respect and discipline elements of this club.
Golf Activity Breakfast - we chose to fund this club and to offer breakfast to try to engage children that might not have chosen to be a part of a longer and more active after school club. The children who have attended have thoroughly enjoyed the experience.
Upcoming clubs - in the summer term, we will be offering cricket club and athletics club, alongside football club for our younger year groups and karate, which runs all year round.
We are using Sports Premium funding to subsidise some of these clubs to reduce costs to parents and further encourage sports clubs participation - for example, the free activity KS2 breakfast club. Pupil premium funding is also used to fund children's places in these clubs to encourage equal opportunities.
A full financial report on this academic year's expenditure will made be available on the website at the end of the school year but please see below for a breakdown of income/expenditure so far this year.
SUMMER TERM 1 UPDATE
Year 5 collapsed curriculum day at the AMEX thanks to Albion in the Community and Humantopia
Last July we put in a bid to be part of the Premier League Primary Stars programme run by Albion in the Community. This programme uses physical activity to engage children in their learning and aims to inspire children in everything from literacy and PSHE to teamwork and sport. We are very excited to have been chosen to be part of this programme for our summer term. Our Sports Mentor for the next 12 weeks is Carly Farrell. She will be part of the St Peter's team every Wednesday.
As part of the Primary Stars programme, Albion in the Community are working with a social enterprise company, Humantopia. Our Year 5 pupils were offered the chance to visit the American Express Community Stadium and take part in a collapsed curriculum day on Friday 27th April 2018.
Humanutopia create and run inspirational life changing courses for young people in schools and their wider communities. During the day children took part in fun activities and worked in groups to explore what we mean by honesty, awareness and responsibility. Everyone involved left feeling great and ready to tackle the daily challenges they face.
This was a valuable experience for the children in Year 5 and the feedback from both children and staff was fantastic!
UPDATE ON PREMIUM FUNDING INCOME/EXPENDITURE - MARCH 2018